an Unfinished Live
a XMFC WWII Alternate Universe.

ATTENTION!!!
Before u read through, pardon me for putting erik in SS officer uniform. coz it's an AU and not tied with canon plot.
it was supposed to be a prompts for xmen revere bigbang fic, so i need to create a scene that has an endless possibility of plot. but i decided not to included this pict in the prompts list.
i almost been butchered by people,coz i posted it on tumblr and got a tag "being unrespectful toward WWII n Xmen universe."
so if u hate the idea, just assumed u'r mind that ERIK IS UNDERCOVER AGENT WEARING SS UNIFORM. i hope i dont accept any hate message in here, coz i never have any intention to make hate towards my art subject~.

ok i'm done~
enjoy the pict, sigh....




More attention, please:
i already given up receiving so many upset messages, although i already tried to explain my good intention as much as i can, but it keeps failing *perhaps my english are not so good either*
i already had a discussed with

shinigami_yumi (my writer partner from previous Xmen BB) she will write the fiction based on this art and i will make another continuity art based on her fic. i hope it's enough to repay all the upset people. we should thank her or else i will be murdered because of my work.
But if somehow u also wanna make your fic version, please let me know, i will listed your fic in my TUMBLR n LJ too.

------------------------------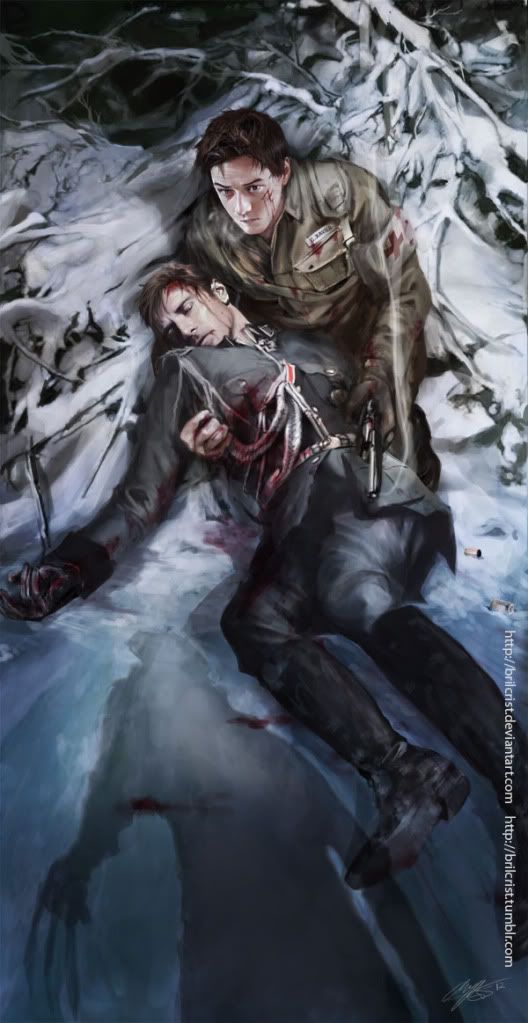 X-men First Class WWII AU.We got:
-Charles as a British Airborne Medic
-Erik as a German SS Officer and there's hint of Logan, yes~? whether he's in a friend or foe's position.
This piece was suppose to be 2nd prompts for
X-Men Reverse Bang
but at the end i decide not too, since i'll be very busy on April-July and the theme is kinda depressing....TAT
and well, i did a little research for the uniform, but if there's mistake then please forgive me coz military uniform is kinda new to me:3
------------------
Title was inspired from:
Audiomachine- An Unfinished Life
Background source from: http://www.gettyimages.com